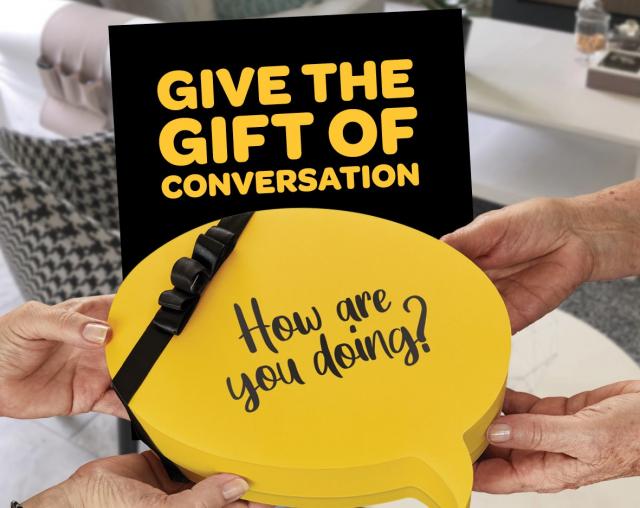 NYREE'S NOTEBOOK by Nyree Johnson
We're two weeks away from R U Ok Day.
A day designed to force us to stop, reflect and ask ourselves and each other, am I really ok?
Are you really ok?
While this may be one day of the year, the question should be asked every day because a conversation can change a life.
Creating meaningful connections with those around us and knowing when something isn't quite right can see us in a position where we can ask the question and just listen.
Ask, listen, encourage action and check-in, as recommended by ruok.org.au
And if we're the ones asked the question – be honest.
No one gets through this journey of life alive, and no one is born with a manual on how to do it.
We also never know what the person next to us is going through in their day, week, month or year, which is why it's important to be kind always.
This year's R U Ok Day message is, 'Ask R U, Ok? No qualifications needed'.
It is interesting, however, not surprising that research has shown that four in ten Australians feel that asking someone, 'are you ok?' is a better conversation had with an expert.
You already have what it takes to support family, friends and colleagues, and you don't need to be an expert to have an R U Ok? conversation.*
August every year has its moments for me.
Both of my Grandmother's births and deaths occurred in the last days of July and this month.
One moment I send birthday wishes to heaven, and the next, I remember the day I was by their side as they took their last breath.
Though, August is also the month in which my cousins lost their mother, my aunt, to suicide.
I am heartbroken and inspired when I hear stories of those who've lost loved ones to suicide and those who've lived to tell the tale.
As my children tell me the woes of their day, I am desperately searching for that indication that something isn't quite right.
Sometimes children need to talk or vent about a challenging relationship with a friend, but sometimes it's more than that, and that's what I'm searching for.
The patterns, the behaviour changes, the mood swings, the inclination to withdraw, I'm searching for it all.
What's a normal friendship rift, and what is more than that?
Having lived and breathed in person and online bullying, I know first-hand the impacts it has on a resilient and headstrong person, and I can only imagine what it does to someone with less life experience.
One of my most spoken phrases to my children is "Speak, even if your voice shakes" – by Amy 'Dolly' Everett.
Dolly left this message behind in January 2018, when she took her own life after becoming a victim of ongoing cyberbullying.
I use this phrase with my Scouts, my children, my friends and my team.
There is no judgement and I genuinely mean it – Speak, even if your voice shakes.
I've done enough unconscious bias training over the years to be completely neutral when you open your mouth and speak to me. Just speak.
Mental health matters.
Being kind matters.
You matter.
So what can we do to support each other?
Ask, listen, encourage action and check-in.
And if you're the one who is not ok, be honest and speak, even if your voice shakes.
You are amazing, and you are enough.
*For support at any time of the day or night, please call Lifeline on 13 11 14.
*ruok.org.au/qualified-to-ask-ruok
#question