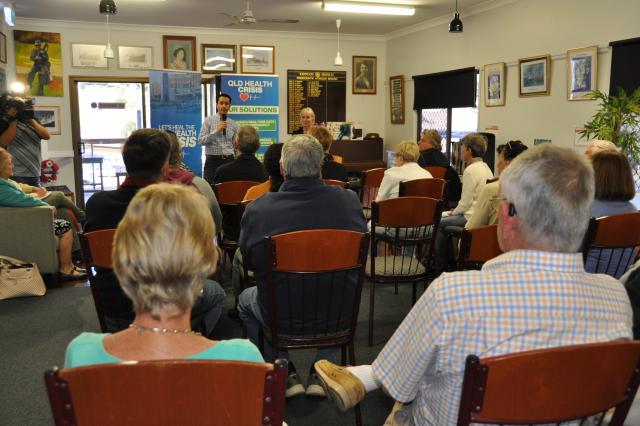 By Trish Bowman
Capricorn Coast residents shared their stories and their concerns at a 'Queensland Health Crisis' Town Hall meeting held at Yeppoon RSL sub-branch on Thursday and the resounding opinion was, our health services need immediate help.
Hosted by Opposition Leader David Crisafulli, accompanied by Shadow Health Minister Ros Bates and Member for Capricornia Michelle Landry, the meeting was an opportunity for locals to speak out and have their stories taken to the floor of Parliament House in a bid to work together to heal the current Queensland health crisis.
Mr Crisafulli said the meeting was the twenty-first of its kind as the LNP makes their way across Queensland talking to communities about their experiences.
"The health industry has clearly fallen through the cracks and is in urgent need of solutions," Mr Crisafulli said.
"We are listening to the experiences of Queenslanders so we can work to deliver better health care in our regions.
"We have heard many stories from people who have been on waiting lists for surgery for years, excessive ambulance ramping, delayed treatment and sadly, people dying while waiting for treatment.
"Our health professionals are under enormous stress and are screaming for help."
Mr Crisafulli said ambulance ramping is up to 45 per cent at Rockhampton Base Hospital which is on a par with the likes of Brisbane.
"The meeting was not about pointing fingers or what government is in power, it is about hearing real stories, finding solutions and putting our doctors and nurses back in charge of our hospitals," he said.
"Our health care workers are battered and bruised, they are over worked, under staffed and leaving their positions in droves.
"We've had some wins along the way, including locals finally getting a crucial specialist appointment, or even surgery after years of delays but we have so much more to do."
Shadow Health Minister Ros Bates, who has a background as a registered nurse, said health services in regional areas had deteriorated over the last seven years.
"What residents right across the region are experiencing is simply not good enough," she said.
"We are listening to their calls for a better health system, and we are determined to deliver it.
"With ambulance ramping alone last year we saw six thousand hours of lost time for our front-line workers.
"The LNP has put solutions on the table including more beds, better triage and giving power back to the frontline staff to make better decisions to improve patient care.
"The State Government must start listening because all Queenslanders, no matter where they live, should have access to a world-class healthcare system and right now they don't.
"We have seen category five patients arriving at emergency departments as category one.
"This is a real problem, we know the state government are flying doctors into regional areas at $5000 a day, there simply aren't enough health care workers available."
Retired nurse Trish said she has seen the impacts on both hospital staff and patients.
"I told staff on the ward another patient was on their way and seen the nurse break down in tears, our health care workers are giving everything they have," she said.
"We need help to get our primary healthcare working better.
"Our aged care is chronically under-funded, and we need to have better patient/carer ratios.
"I also believe we need to take a better look at nurse practitioners who could relieve the burden on hospitals for minor complaints."
Yeppoon resident Ron waited two years to have his eyes checked.
"When I finally got an appointment, I was given drops, but they didn't help so I contacted the specialist who said he would send a letter to my private doctor (who takes a month to get an appointment with) for further testing.
"That was over a month ago and I'm still waiting."
Dan said he was a medical technologist who lost his job due to the vaccination mandate.
"I'm desperate to get back to work as I am sure many others are," he said.
"I want to know when the mandate on vaccination will be lifted which would address our current skill shortages in our health system."
Livingstone Mayor Andy Ireland said has also been lobbying on behalf of the community to attract more specialist services to the region.
"On the coast we have a population of over 40,000 people, we deserve better health care," Cr Ireland said.
"You can't even get an x-ray after hours in Livingstone Shire right now and specialist treatment means driving to Rockhampton or travelling to the south-east."
Mr Crisafulli said some of the opposition's solutions to the current health crisis include, launching real time data for our emergency departments, streamlining triage when patients arrive, putting doctors and nurses back in charge of hospitals and investing in more beds.
Health Minister Yvette D'Ath said the state Government has invested heavily in the Central Queensland Hospital and Health Service and over the last seven years.
"We're providing $753 million in funding for the HHS this financial year," she said
"Overall funding for Central Queensland HHS has increased 62 per cent since 2015.
"During this period we have hired 713 new frontline health workers at the HHS, which is in stark contrast to the LNP which sacked 197 local health staff when they were in office.
"In addition to delivering record operational and capital funding, we continue to work with all HHSs, including Central Queensland, to deliver better models of care to address the unprecedented demand pressures being experienced across the entire country.
"We are also working with the Commonwealth to address challenges in primary health care, including better access to GPs."
#Health #Crisis