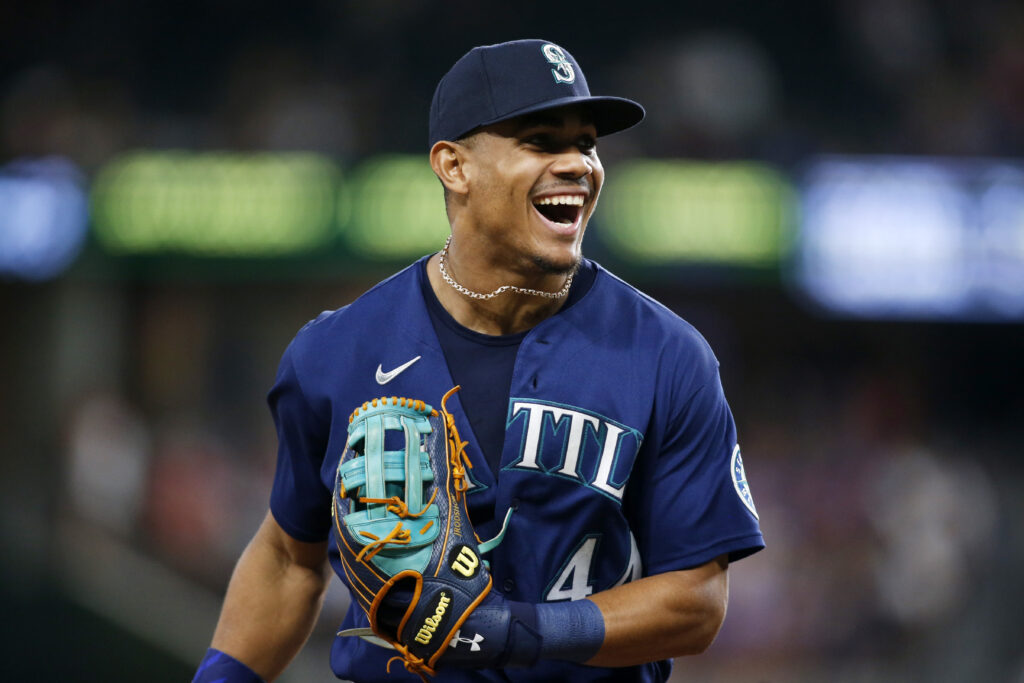 1:14pm: ESPN's Jeff Passan provides a breakdown of what is indeed an extremely complicated structure (Twitter thread). The contract actually begins in the current season, and Rodriguez is guaranteed $120MM over the next eight years, through 2029. After the contract's seventh year, the Mariners must decide whether to effectively re-extend Rodriguez for anywhere either eight or ten years, with the size and value of that long-term "club option" dependent on how Rodriguez finishes in MVP voting through the contract's first seven seasons.
At minimum, Seattle will be deciding on whether to extend the contract by eight years and another $200MM, but the option can grow to as much as ten years and $350MM in additional money (presumably, with multiple MVP wins). That would push the contract to 18 years and $470MM in total value.
If the Mariners do not exercise their multi-year option after Year 7, Rodriguez will then have a five-year, $90MM player option that he can exercise after Year 8 of the contract. That $90MM figure is considered guaranteed money (as is the case with all player options), hence the $210MM guaranteed portion of the deal. That structure indicates that, contrary to initial reporting, the guaranteed portion of the deal spans 13 years. This would also indicate it maxing out at 18 years, as opposed to the previously reported 20.
There is, of course, a scenario where the Mariners do not pick up their 8- to 10-year "club option," and Rodriguez also declines his five-year, $90MM "player option," which would then allow him to reach free agency after eight years, when he'll be heading into his age-30 campaign.
11:44am: The Mariners are locking up one of the sport's brightest young stars on a record-setting contract, as they're reportedly in agreement on a 14-year, $210MM contract extension with AL Rookie of the Year candidate Julio Rodriguez. The deal reportedly contains both player and club options that can extend the length of the contract to a whopping 20 years and push the total value upwards of $450MM. Rodriguez is represented by Octagon.
Rodriguez, 21, broke camp with the Mariners this season and, after a rough couple of weeks to begin the year, burst into immediate stardom and has established himself as one of the frontrunners for Rookie of the Year honors. He's currently hitting .269/.328/.471 with 20 home runs, 19 doubles, three triples and 23 steals (in 29 tries) — plus above-average defensive contributions in center field.
Those numbers are at least slightly skewed by a poor start to the year in which Rodriguez batted .136/.208/.159 with a 45% strikeout rate. Dating back to April 22, Rodriguez has mashed at a .285/.342/.508 clip. That production is about 46% better than league average after weighting for park and league, by measure of wRC+, which places Rodriguez in a three-way tie with Alex Bregman and the also recently-extended Austin Riley for 12th-best among qualified Major League hitters. Rodriguez also ranks 13th in the Majors in both average exit velocity (92 mph) and hard-hit rate (49.6%) in that time, and his 14.9% barrel rate in that stretch is MLB's ninth-best mark.
Add in the fact that he's done all of this at 21 years of age and after skipping the Triple-A level entirely, and Rodriguez's rookie season becomes all the more remarkable. Given that youth and lack of upper-minors seasoning, it's quite possible that even though Rodriguez already ranks among the game's best hitters, we've yet to even see the best he has to offer.
From a defensive standpoint, Rodriguez has more than held his own in center field this season, turning in positive marks in Defensive Runs Saved (2), Ultimate Zone Rating (0.3) and Outs Above Average (5). Many scouting reports penned before his MLB debut suggested that as Rodriguez ages and continues to fill out, he could be destined for a corner outfield slot, but given his 70- or even 80-grade raw power and the solid work he's flashed in center this season, he'll have both the bat and likely the defensive chops to be an above-average contributor in right or left field.
The $210MM guarantee on this contract will give Rodriguez the record for largest contract ever signed by a player with under a year of Major League service time. That distinction currently belongs to Rays shortstop Wander Franco, who inked an 11-year, $182MM contract last November.
Rodriguez will topple that mark with ease, although it's not an apples-to-apples comparison. Franco wasn't promoted until midseason and inked his deal in the winter, when the Rays had six full seasons of club control left over him. Because Rodriguez made the Opening Day roster, he'll get a full year of service in 2022 and would have "only" had five additional years of club control remaining. In that respect, Rodriguez could technically be considered more of a one-plus player (between one and two years of service time), although even when viewing the contract through that lens, it's still a record-setting agreement; Ke'Bryan Hayes' $70MM extension in Pittsburgh was the previous record for a player with between one and two years of service.
Regardless of which service bracket one thinks more aptly applies to Rodriguez, this new 14-year deal now stands as the largest contract ever promised to a player with fewer than two years of Major League service time. In that aspect, Rodriguez and the Major League Baseball Players Association are surely pleased to see the precedent for young, superstar extensions moved even further forward.
All that said, there's still potential for the contract to be quite favorable for the Mariners. Rodriguez would've likely earned near the league minimum in salary over the next two seasons (plus any payouts from the newly collectively bargained bonus pool for pre-arbitration players). A player with his upside and early dominance would likely have done quite well in arbitration, and while we can never know exactly how much he might've earned through that process, arbitration is generally based on precedent. Looking for recent comparables, Mookie Betts secured $57.5MM for his three arbitration seasons. If we put Rodriguez into that broad vicinity, his remaining five years of club control might have netted him somewhere in the range of $60MM — perhaps a few million more if he'd taken home an MVP Award and/or pushed the Betts precedent a bit further.
If Betts is even a loosely accurate barometer for Rodriguez's arbitration, the Mariners look to be locking in what would have been nine free-agent seasons at a total cost in the $150MM range. That $16.67MM annual value obviously pales in comparison to what Rodriguez's could've earned on the open market had he gone year-to-year and hit the free-agent market in advance of his age-27 season, but such is the nature of early contract extensions. There's obviously ample risk of injury or downturn in performance for Rodriguez, all of which is baked into the relative discount rate for those open-market seasons.
It's also worth bearing in mind that if the contract has player options and/or opt-out clauses, as Passan suggests, Rodriguez could well hit the "eject" button on the deal and enter into free agency at an earlier date anyhow. The $210MM figure is the minimum that's guaranteed to him if he plays out the 14-year term of this deal, but an opt-out in his late 20s or early 30s could change the calculus (as could any awards-based incentives/escalators and club options — all of which are typically bargained into extensions of this nature).
From a team payroll vantage point, there's ample room for Seattle to make a commitment of this nature. A significant portion of the team's recent rebuild was dedicated to clearing long-term clutter from the books — e.g., the Robinson Cano trade — and the team's long-term commitments are now rather minimal. Left-hander Robbie Ray is signed through the 2026 season, as is shortstop J.P. Crawford, but they'll combine for just $37MM at that point. That would've only been Rodriguez's fifth big league season, so the salaries on his contract will still likely not quite have escalated to their maximum levels.
Looking more short-term, the books are also still accommodating. The Mariners, who'll see veterans Mitch Haniger and Adam Frazier reach free agency at season's end, had just over $63MM in guaranteed money on the 2023 payroll prior to this contract. That number doesn't include an $8MM option for righty Chris Flexen, nor does it include a handful of arbitration raises: Luis Castillo (earning $7.35MM this season), Diego Castillo ($2.315MM), Paul Sewald ($1.735MM), Ty France (pre-arb) and Erik Swanson (pre-arb). That said, Rodriguez's salary figures to be quite low in the first few seasons of the deal, so it shouldn't impact the team's bottom line at all in 2023.
It's a momentous day in Mariners history, one that firmly drives home the organization's "win-now" mentality as it inches toward a postseason berth that would smash a two-year playoff drought — currently the longest in major North American professional sports. There's risk for both parties, but the contract is a continuation of the ever-growing trend of extending young stars at nine-figure rates that guarantee a player's entire prime. The contract also locks Rodriguez down as the new face of Mariners baseball for the next decade-plus, ensuring them a charismatic, marketable star around which to both build the roster and sell the product to the fanbase.
Jesse Sanchez of MLB.com first reported that the two sides were nearing an extension worth more than $200MM guaranteed and as much as $450MM in total value. ESPN's Jeff Passan reported the contract length and exact guarantee. USA Today's Bob Nightengale reported the agreement was in place.



https://www.mlbtraderumors.com/2022/08/mariners-extend-julio-rodriguez.html